Twitter is dead and Threads is thriving
One year after Elon Musk let that sink in, an elegy for the platform that was — and some notes on the one that is poised to succeed it
Programming note: Platformer will be off Monday to attend an event at the White House, at which we anticipate President Biden will announce an executive order about artificial intelligence. We'll be back on Tuesday and may have something else cool for you on Friday.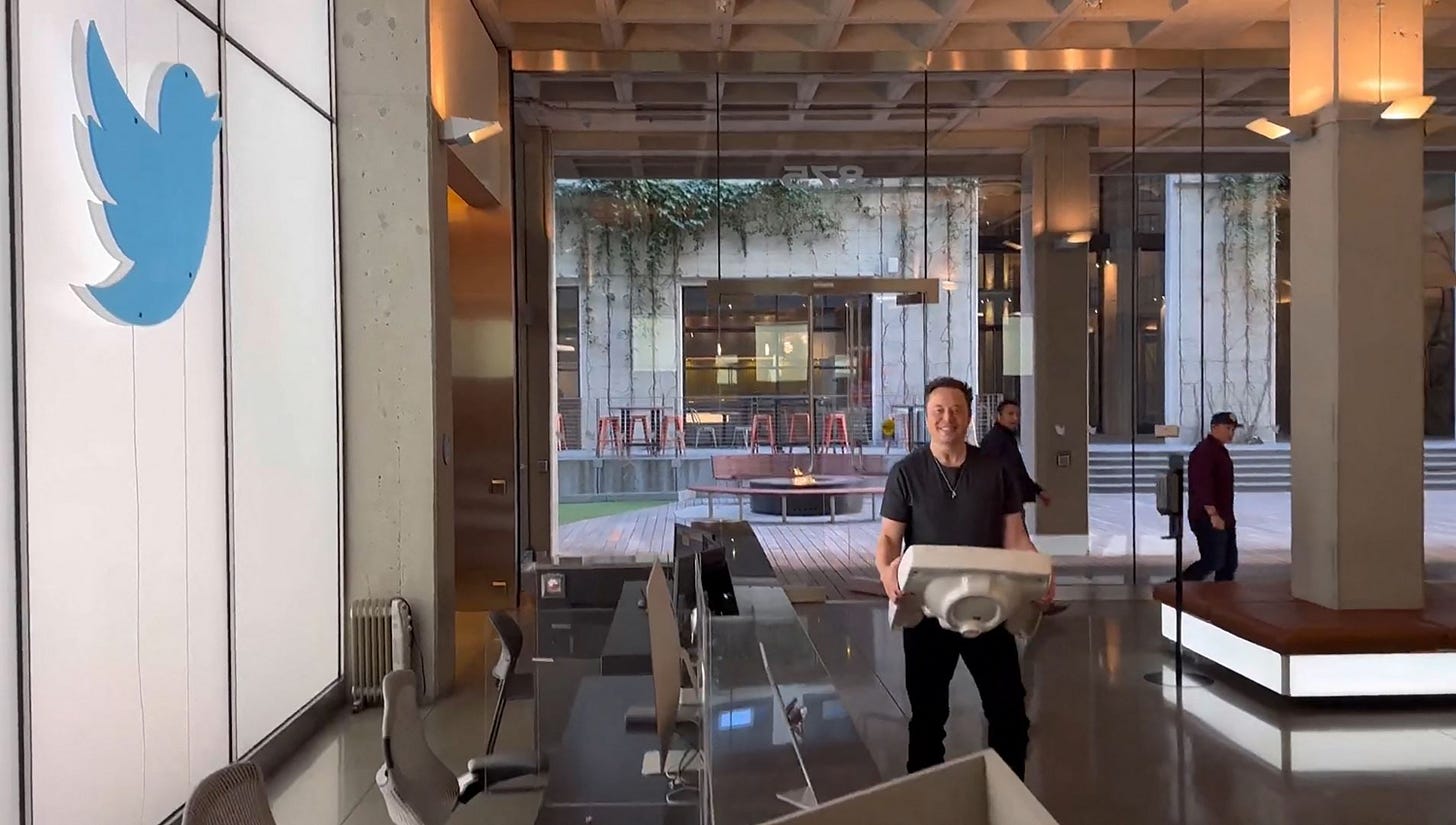 I.
A year ago today, Elon Musk — on the eve of closing his deal to buy Twitter for $44 billion — dragged a sink into the company's headquarters in San Francisco. Today, let's talk about how the ensuing 12 months reshaped social networks, both in the ways Musk planned and in ones he likely never guessed. 
Few events in tech over the past decade have been chronicled as Musk's Twitter takeover and everything that followed. Most readers here already know too well the stories: the massive layoffs, the disastrous changes to verification, the smearing of former head of trust and safety Yoel Roth, the purge of employees perceived as disloyal.
All that happened within the first few weeks. By mid-December, we predicted here that in 2023 "Elon Musk's continued promotion of right-wing causes and personalities will push away more and more high-profile users, who find themselves increasingly put off by his shock-jock antics and whim-based approach to content moderation."
And that transpired more or less exactly as written, though it left out the impact of Musk's equally whim-based approach to software development. Musk temporarily banned critical journalists and stripped the rest of their verification badges; he ordered the development of a system that showed his tweets first; he removed headlines from links and created a system that funded the spread of misinformation. He restored banned users to the platform and sued a nonprofit that accused the company of spreading hate speech.
By July, Twitter was no more, replaced with the confusing jumble of product ideas known as X. The man who Jack Dorsey had singularly entrusted with ensuring the future of the platform had taken just nine months to erase its name from existence.
As we approach the anniversary of the deal closing, the cumulative effect of these changes and others has become clear. Daily users are down about 16 percent, according to the Wall Street Journal. Banks that financed the deal are saddled with debt that they will have to sell at a discount, assuming they can sell it at all.
And Musk's planned pivot to subscriptions flopped at the same time that the company's advertising business collapsed, Aisha Counts noted at Bloomberg:
The main plank of Musk's plan for Twitter (now called X) was to shift away from advertising and toward paid subscriptions. A new analysis from independent researcher Travis Brown estimates that 950,000 to 1.2 million people now pay for X's $8 monthly premium service. That means X persuaded less than 1% of users to sign up — and translates to revenue of less than $120 million annually from the company's subscription service, not including app store fees from Apple Inc. and Google.

This is hardly a replacement for the ad revenue that Twitter relied on in the pre-Musk era — about $4.5 billion in its last full year as a public company. Meanwhile, many of X's top advertisers, such as Mondelez International, Coca-Cola, IBM and HBO, are spending less than they were before Musk took over, largely because of policies he's implemented that have made the service more chaotic and unpredictable. Collectively, X's top five advertisers are spending 67% less on ads than they did before the acquisition, according to data from market intelligence firm Sensor Tower. Some large ad agencies have said they don't plan to spend money on X at all.
On Blind, a pseudonymous network for discussing workplaces, current and former employees were asked to vote this week on whether X's product was better or worse than Twitter's was a year ago. At press time, 79.4 percent of employees said the product was worse.
II.
By now, most of the former Twitter employees we've spoken with have made peace with Twitter's demise. Musk renaming the company to X proved surprisingly helpful in the grieving process: the move made it clear once and for all that the company they worked for was gone. They have new jobs, or are working on startups, and are occupied with different corporate battles.
But they talk to their old colleagues who remain at X, if they have any. And if they worked on issues related to platform integrity, they worry about how X will fare in the months ahead.
"To the best of my knowledge, except for one individual, everybody I worked with closely is gone," says Eddie Perez, a former director of product management for civic integrity. "They're no longer at Twitter."
Before the takeover, Perez's team was tasked with detecting efforts to manipulate elections around the world. Together, they added labels to posts containing election disinformation, and annotated content from state-affiliated media. Now, Perez says, much of that work has been abandoned. 
Keep reading with a 7-day free trial
Subscribe to Platformer to keep reading this post and get 7 days of free access to the full post archives.